objerky
Regular price
Sale price
₴50.00
Unit price
per
Sale
Sold
Skwarki are pieces of pork skin, fried to an appetizing crunch. This product is a traditional snack in Ukraine, Poland and Latin America. Skwarki is a 100% natural product made from selected Ukrainian pork. Without preservatives.

Ingredients: pork skin 92%, sunflower oil, sugar, maltodextrin, table salt, hydrolyzed vegetable protein, natural spices: tomato powder, ground chili, acidity regulator (ascorbic acid, sodium diacetate E262 (no more than 0.035% in the final product) , dextrose, "Chili" and "Smoke" flavorings, natural paprika extract dye, anti-caking agent E551.

Nutritional value in 100 g of the product:

Proteins - 45 g;

Fats - 40 g;

Of them saturated - 16g;

Carbohydrates - 5 g;

Salt - 4 g;

Energy value per 100 g - 560 Kcal.
Share
View Full Details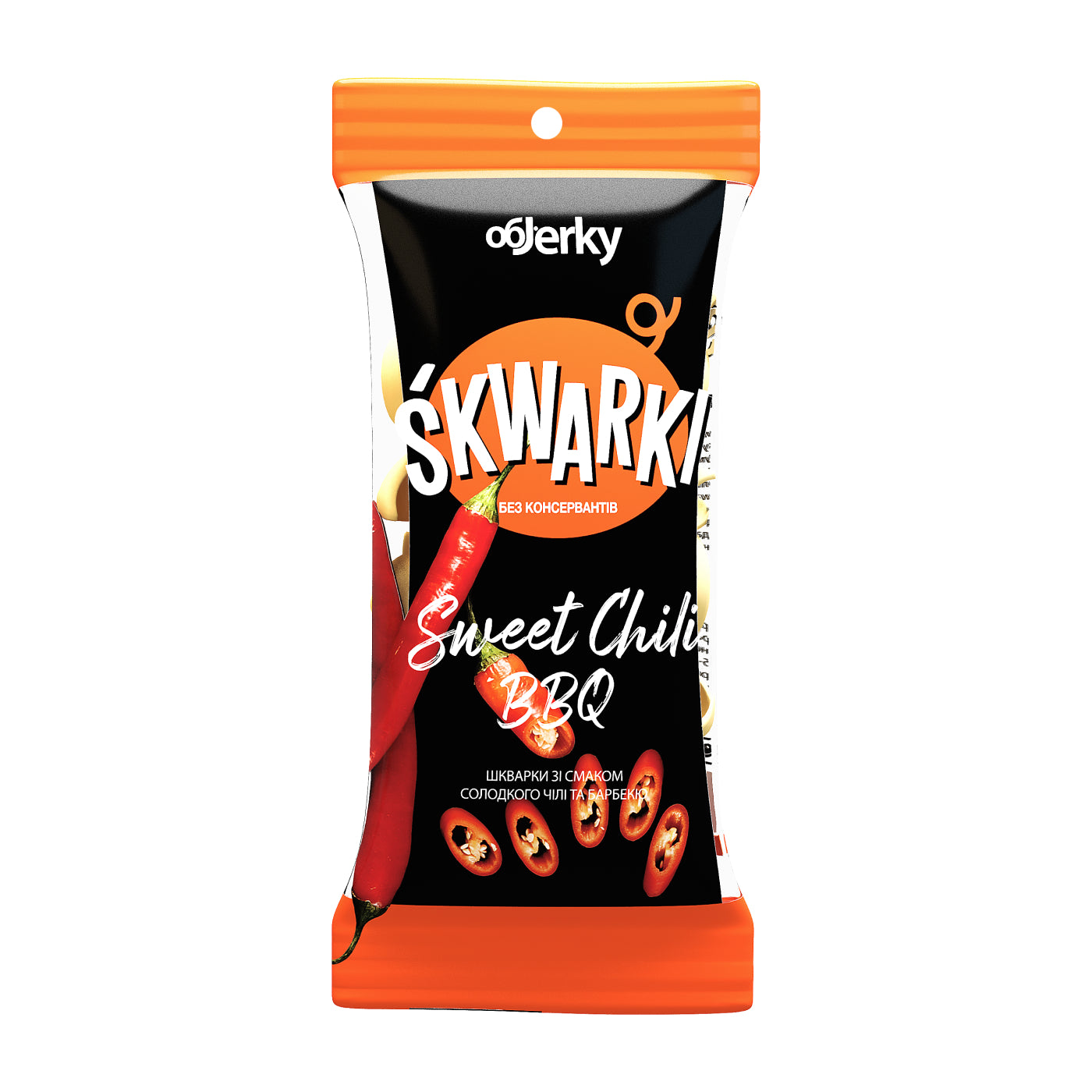 Delivery and payment
Order payment

We accept all non-cash payment methods supported by our partner Fondy and cash payments.
Order delivery

Delivery is made to Nova Poshta warehouses within Ukraine.

Worldwide delivery is discussed individually.
Order dispatch schedule

Orders are shipped from Monday to Friday. All orders received on Saturday and Sunday will be shipped on Monday. Orders received after 12:00 will be shipped the next day.
Minimum order

Minimum order from 1 piece. But consider the cost of shipping!
Shipping cost

Free delivery to the Nova Poshta delivery point in your city applies to all orders over UAH 900, including all discounts. Delivery of orders up to UAH 900 is paid according to Nova Poshta tariffs.
Термін придатності

Термін приданості зазначений у опису до кожного продукту. Зокрема, м'ясні снеки - 360 діб з дати виробництва.
Тревел бокс від ОбJerky - подарунок, який точно сподобається!
Перевірено сотнями задоволених отримувачів
Замовити